My goodness, it has been a while! My new year has been off to a busy start leaving little time for doing projects and almost nothing to blog about. I started physical therapy in January (3 times per week plus twice a day at home), and I just got back a few days ago from having spent 10 days in Little Rock with the younger sibs while my parents were on a cruise. And in another few weeks, we'll be gone again for a family vacation to Destin! Whew!
But back to business. Before my stay in Little Rock, we purchased a new desk to replace this old one in our living room.
Growing up Andrew had this desk in his bedroom and he took it with him when we got married (hand-me-downs are pretty great when you get married in college!) The storage has been useful, and I considered repainting it for a while, but it just wasn't working for us anymore and I had no desire to redo it. I wanted something here that visually would be less bulky and could pass for either a desk or a sofa table, like this Hamilton X Slat desk from Target.
I'd been eyeing it for a while, but I'm extremely cheap and didn't want to spend $130. I looked at Craigslist for months…and nothing. In the meantime, I'd also acquired $50 in Target gift cards from Swagbucks.com (a search and win site, check it out!), so I pulled the trigger the next time it was on sale for $110. After the gift cards, I only had to pay about $60 out of pocket (less 5% from using my Target debit card). I used some Christmas money from my sweet Grandma Reta for the rest of it! Thanks, Grandma! 🙂
Andrew assembled it for me, which, of course, took longer than you'd think.
And while Chaucer explored the box…
I admired my new desk!
I really do love the way it looks, and I love that it has at least one drawer! Several of the other options I considered didn't have any storage, and I really wanted to be able to store at least a few pens/sharpies, scissors, stamps, a few coupons, etc. Though I have yet to organize it…or find a new home for all the displaced stuff from the old desk. Ugh.
I like the sleeker silhouette and the lighter, fresher color. I also love that I could immediately put it in my house and not have to paint it! I need a few purchases occasionally that are NOT projects!
I am a little concerned about the durability, though. Obviously, I knew for that price it wouldn't be the highest quality piece of furniture, but since we really didn't use the desk that was there before very often, I thought I'd take the chance. Hopefully it will hold up well to some light use.
I really wanted a white desk, but currently I think the room looks a little unbalanced. We have a lot of darker furniture on the other end of the room…3 faux leather chairs, the secretary, entertainment center, a black coffee table, and a dark stained chest of drawers.
On this end of the room we have the white desk, a white built-in with white decorations and another white shelf opposite the desk.
I have a few changes planned that will hopefully restore some balance, though. I want to find a long, low dresser, paint it white, and use it as our entertainment center instead. I've also been on the lookout for a new coffee table ever since we got our new (and slightly taller) couch.
And I think it would help to add a darker or brightly colored chair to the desk. I found a harp back dining chair on Craigslist for only $15, but she lives an hour away! I was going to pick it up on the way to or from Little Rock, but it didn't work out. I'm determined, though (and apparently no one else is interested), so she said I could pick it up in a few weeks when we go back to Little Rock to travel with my family to Destin.
If I get it, I think I'll paint it a dark or bright glossy color and reupholster the seat with something light and neutral. I think it'd be so cute in a high gloss navy like these folding chairs on Esty.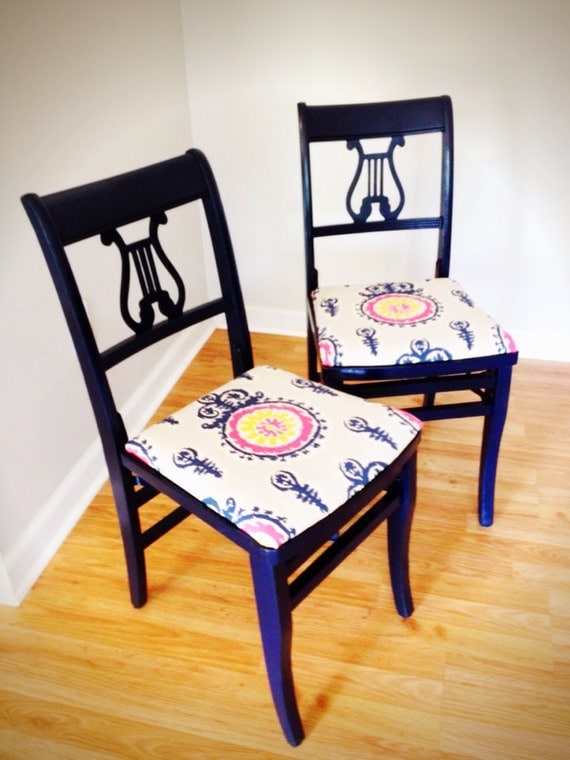 Or in a bright green? Though that would mean having to repaint the dark greenish-brown radio cabinet, but who knows. I might just go for it. Now hopefully I can find some motivation so my next blog post isn't just another blurb about my latest purchase!