Lately, I've been seeing Christmas tree cones everywhere, but I can't bring myself to spend upwards of $15 per tree, especially when I'd really like to have at least 3 of them to group together. Why buy them when I can make my own?
Last year, actually, I bought poster board at the dollar store to do this project and just never got around to it, so I really had no excuse this year! The only item I bought this year for the project was a 4×6 canvas drop cloth from Lowe's for about $5. I wanted to create my own version of this tree I saw at Lowe's.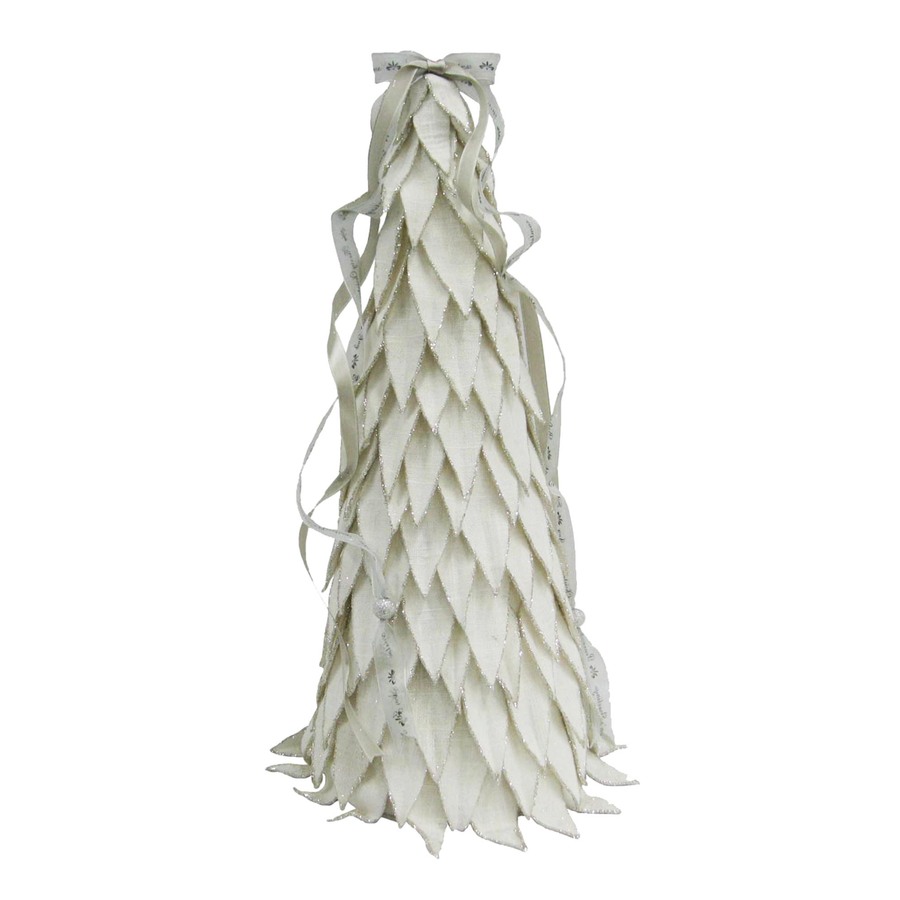 To begin, cut your poster board into cones. I found the easiest way to do this was to use a makeshift compass using a long strip of poster board. Make the strip about as long as the height you want for your tree (after drawing each one you can cut it shorter to do the next). Attach it to the corner of a piece of poster board using a thumb tack, poke a hole in the other end, and draw a line keeping the strip tight without lifting the corner of the poster board.
Cut along the line and then roll and secure with tape or hot glue. I stapled the bottom of mine, too,  just to be sure it wouldn't unroll. Out of 2 pieces of poster board, I got 5 trees that are about 19″, 17″, 13″, 12″, and 9″ tall.
Then it's time to decorate! This was the time-consuming part…I'm sure there are ways of decorating them that aren't as time-intensive, like coffee filters, one big piece of fabric, etc., but I already had some ideas in mind.
First, I wanted to try wrapping them in strips of fabric. I had a large piece of red canvas-type fabric that I got from a thrift store for $2 that was just waiting for a good craft project! I cut long strips of the fabric, generally around 1″ thick. Then I just started wrapping and hot gluing the fabric onto the tree.
On the large one I placed the strips in every direction, but on the small one I thought it might go quicker to do them vertically. I really love how they turned out!  And I still have tons of fabric left for future projects…
I wanted to have at least 1 green tree, so I chose 3 fairly similar green paint chip colors and cut out random (though mostly 4-sided) shapes from each color. And in the name of full disclosure, Andrew actually cut them out while I glued. Cause he's awesome.
Starting from the bottom, I glued the paint chip pieces in layers until the whole tree was covered. I used smaller and smaller pieces as I got closer to the top so they wouldn't stick out too far. For the very tip, I curled the small pieces around a pencil before gluing them on.
I really like this one, too! It's so abstract and perfectly random!
If you're looking for a really quick way to make a tree, this is it! For my next one, I used caulking. Plain, white, interior, no frills, caulking (a.k.a. the cheapest kind), which, of course, we had on hand.  Check out this tutorial and video from Lowe's.
First, I covered the entire cone with large beads of caulk.
Then I smoothed it out using the back of a plastic knife (non-serrated edge).
Then I textured it using the back of a spoon, like she does in the video.
After it was textured, I sprinkled gold glitter over the entire thing, with a little help from my very manly husband! And that's it! This one was really easy! It only took 10 or 15 minutes to do. You know how a lot of tutorials are like 2 minutes long, make every step look super easy and short, but then when you try it, everything is a complete mess? Yeah, not this one! It really was as easy as it looks in the video.
I had a lot of fun arranging my trees, as you can see.
But I saved my favorite tree for last. Remember the Lowe's fabric tree? I wanted to make one similar, so first I cut out a leaf template (using a paint chip cause it's thick and sturdy!), and then cut out at least 200 leaves from my canvas drop cloth.
Again, starting from the bottom, I hot glued each leaf into place. The rows were probably about an inch apart…maybe a little less. I tried to vary where I started each new row, just in case it would be obvious.
For the very top, I made a tiny little canvas cone and glued it on, so that it wouldn't be the only tree with a flat top. I couldn't decide if i should glue the edges of the leaves on the bottom row under so that it wouldn't look funny sitting on the table…
But then I remembered I had this candlestick (that I got from my grandmother's house. Thanks, Grandma!) that would allow me to preserve the cute scalloped edge.
Need I say it again? I'm really happy with how they turned out! I think they look just as good as any "store bought" trees. And personally, I like my fabric leaf tree much better than the one at Lowe's.
As for my cute, stripey table runner, well, it's just a piece of fabric!
I bought a grey runner with a sequin border from Target, but upon getting it home realized that not only was it already missing sequins, it was exactly the same length as my table. Um, awkward.  Maybe it's just me, but I think a runner should be either obviously shorter or longer than the table. So it went right back to Target, and I pulled this out of my small fabric stash, ironed the edges under, and laid it on the table.
Call me cheap, but I love making things myself! Instead of spending $12.99 on a runner and $12 to $20 per tree, I spent well under $10 for this entire set-up.
"Runner" – $2 out of a scrap fabric bin over a year ago (and I didn't cut it at all so it can still be used for other things)
Red fabric – $2 at a thrift store a long time ago (and I probably only used 5 inches off one end)
Canvas – $5, but I bought it to use for some other projects, too (and have plenty left for them)
Poster board – $1
Hot glue sticks – had on hand (maybe $2 worth of sticks?)
Caulk – $2 but had on hand, only used about half or less.
So I would say the cost of materials used was probably about $5? I'm calling that a win.
And they're just so cute!! I lurve them! I'm not sure this is the final arrangement, but who knows what will be. I'll probably move them around every day until it's time to put them away! What a sad day that will be…