So I know I'm a little behind on my fall decorating this year, but with house paining in the late summer/early fall and our cruise in October, fall just kind of got away from me!! I love having something on our front door so it doesn't look so bare (like this free packing paper wreath or my magazine paper wreath), but I refuse to put up my Christmas wreath until after Thanksgiving! So I needed a quick and cheap fall decoration…enter the twig and pennant wreath.
Since I knew it would only be up for a few weeks, I also wanted something that I could bring inside to use for Christmas simply by changing the pennants. First, I gathered a bunch of twigs from our crazy overgrown boxwood and stripped the leaves off.
Andrew shaped a wire hanger into a circle for me (cause it frustrates me to no end!), and then I just started wrapped twigs around the circle.
I secured them by bending thin, metal paper clips around the twigs and hanger.
As it got bigger, I secured the paper clips to other large twigs. Bear with me…I have no in process pictures because I was trying to wrangle a bunch of sticks, paper clips, and two fluffy cats who kept trying to eat the sticks!
After I had a big enough wreath, I spray painted it using Rustoleum's Ultra Cover 2x spray paint in satin Lagoon.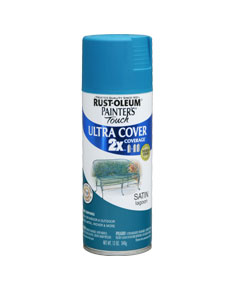 Not only is it a really fun color, but this spray paint is great! It was under $4, I love that it comes in a satin finish, it covered so well, and I still have a lot left! Definitely a new favorite!
Then I printed out some pennants (I hate my handwriting, so that wasn't an option) on off-white resume paper, folded them over a piece of twine, secured them using double sided tape, and tied them onto my wreath. Ta-da!
I opted to use an orange ribbon for now…
But in a week I'll change that along with the pennants to transform it into a Christmas wreath! Yay!
I chose turquoise because I wanted something bright that would stand out against our blue-gray door (that we really need to paint!) and because we're doing some turquoise Christmas ornaments this year. And I just really love turquoise!
So there it is. A last minute door decoration for fall. It was a bit frustrating to make (definitely would have been easier with some floral wire that's easier to bend), but I'm really happy with how it turned out! And my door thanks me for not leaving it bare!
Unlike my two previous homemade wreaths (not including our mostly store bought Christmas wreath that we use every year), this one wasn't free. I did spend a little over $3 on spray paint. Everything else was free, though, AND I still have spray paint left! That brings my wreath total to 3 homemade wreaths coming in at just under $4. Andrew, you really can't complain about that!
Happy early Thanksgiving!