Oh, c'mon. Not that kind of lighting up. We're talking the literal "light" kind. This isn't a super exciting project, per se, but it's one that I'm glad to be done with so I can finally cross it off our list. This was our backyard light before.
Pretty sad looking. And not that bright. And not on a sensor of any kind.
Sadly, this has been on our "to do" list since our very first shopping to Lowe's after closing on our house. We bought a new one on that trip and it has stayed in the box in our "project closet" ever since. It's probably the same as this one at Lowe's priced at $24.98…just a slightly different design since we bought ours over 2 years ago. Oops!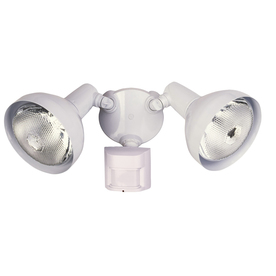 When starting our house painting project, we figured we should wait to install it until we were done. We took down the old one to make sure everything underneath it got painted since we didn't know how big the base of the new one would be.
And immediately realized we'd need to make a few changes when we installed the new one anyway. So after getting everything painted, we bought an electrical box, traced around it, and cut out a spot for it with the jigsaw. Andrew fed the wires through…
And hooked up the new security light! (FYI, we don't provide tutorials on rewiring, installing new fixtures, switches, outlets, etc. If you've never done it before, it's probably not a good idea to learn from other DIYers on the internet. Safety first! Hire a pro!)
And it went from this nasty black and silver and chrome light…
To this one…which is all white. Just white.
The arms of the previous one were broken, so though it was supposed to be adjustable, you really couldn't change the position of the lights. They just fell back down. This new light is much brighter and has a wider range, so it casts light over much more of the yard than the previous one.
It's also on light and motion sensors. It won't come on during the day at all, and only comes on at night when it detects motion. By flipping the switch a couple of times, you can manually make it turn on or off.
And it even has these convenient little settings so you can adjust the "range" of the motion detecting (I think?) and change how long the light will stay on after being activated.
It was a pretty affordable option at about $25, and so much better than what we had before!! I still can't believe we waited so long to install it, but it ended up working out pretty well with our painting project…one less thing to cover up! So hooray for more light in our backyard and fewer unfinished projects on our to do list!
We only have 2 weeks before we leave for our cruise!! We're so excited to get away from projects for a week!