Well, we got another new light fixture in our kitchen (in addition to these ones)! This time not so much by choice as out of necessity. A few weeks ago, Andrew was hammering in loose nails on fascia on the back of the house. I guess the glass dome in our over-the-sink light fixture wasn't screwed in very tight so the vibration from the hammering caused it to fall into the sink. To it's death. Poor little glass dome. Except let's be honest, we didn't really like it.
We've always wanted to replace it, but didn't really need to until now. So in stepped our little Russian friend to save the day.
At least I'm assuming this is Russian? As for the "thing" itself, I have no idea what it is…for the last couple months it has simply been a decoration on a shelf.
We found this odd little wooden sculptural thing at a local thrift store for either 25 cents or 99 cents…I can't remember. It's been a while. Either way, pretty dang cheap. As soon as I saw it, I immediately thought "pendant!" I've been obsessed with these wood veneer pendants from West Elm for a long time now, but I'm not quite as in love with the $169 price tag.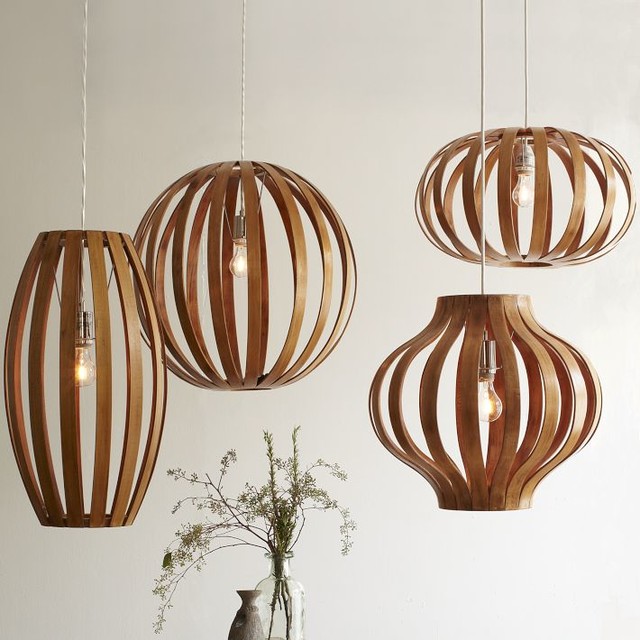 So though this one is a little more angular than the oh-so-curvy West Elm version, it was a lot cheaper. And if I may toot my own horn, a lot more inventive than buying something pretty from a store.
Here's the before again. Simple, bright, but a total snooze-fest.
And here's after.
I imagine this would be one of those "you love it or you hate it" kind of things for a lot of people, except I'm not quite sure where I fall. If love is a 10 and hate is a zero, maybe an 8? Definitely more on the love side.
When we first bought it, I wanted to try to hang it flush against the ceiling, but the base was too narrow to fit over the existing light fixture. So instead we bought an oil rubbed bronze pendant kit from Lowe's. We made a small hole through the mdf base with the Dremel tool and enlarged it a little bit at a time until it fit over the end of the light socket. Andrew hooked it up, and that was that.
We didn't want it to hang too far over the window, so it's as short as it can be. It doesn't look too much like a pendant, but maybe almost more like a flush mount.
I think I'd like it even more if/when we redo the kitchen and get get rid of that bulkhead. We would hang the light so it's at the same height as it is now, but since it would be hanging from the ceiling, you would see more of the cord and it would look more pendant-y.
Even as it is now, though, it's kind of a fun little surprise in the kitchen.
And it gives off a charming, warm glow when it's on, especially at night, and it looks super cute from outside, too!
Total this project cost $0.25 or $0.99 for the wooden piece (can't remember which, but I think a quarter), and around $17 for the pendant kit. All in all, it was under $20 for a new light fixture. Not too shabby! Besides, if we decide we want to change it down the road I'm sure we can find many alternate uses for the pendant kit. We also discussed moving the whole thing above our front door.
But I think we decided we're both happy with it where it is and excited to see what it could look like in our new kitchen. Some day. At least these small little changes help the kitchen feel a little more homey until we can do a full renovation.
So what do you think of our DIY pendant?