Not really, but I have been doing lots of power washing and it makes me feel powerful! We borrowed this Karcher electric power washer from my parents a month or two ago and finally got around to testing it out.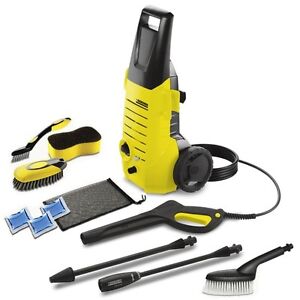 And I am so hooked! Other than making my feet hurt (note to self: don't wear flip-flops on concrete for 4 hours) and splattering dirt all over my legs, it is wonderful! The dirt just washes away before your eyes and all you have to do is move your arm back and forth. Talk about minimal effort for maximum results. No where else in life does that really work…
We decided to start by testing it on our driveway. We weren't sure how strong the pressure would be and how much it would actually do, so we wanted to start on something a little more durable than our siding…or our old looks-like-it's-going-to-fall-over fence. We really didn't think it would make that big of a difference. Boy, were we ever wrong. Here's the before, which to be honest we didn't know was that dirty…
And now it looks like new! Notice how dark the sidewalk looks in comparison.
I would like to do the sidewalk in front of our house, but where would I stop? Our house is on an "island" in our neighborhood, so I could literally go all the way around the sidewalk until I got back to ours on the other side. That could be dangerous.
The only negative about this is it takes a long time. It does about a 3″ wide section, so we had to do it over several days. All together, it probably took 8 or more hours. If you tried to go too fast, it would start to miss stuff or not get it as clean as the rest.
Here's after we stopped one evening. Such an obvious line!
We also had to be careful around any areas that were already chipping or had holes as it would tear them up a little bit more. Probably another good reason not to do this too often. But seriously, I think this driveway is original to the house and I'm guessing has never been cleaned. It was time for a little love!
Here's another before.
And after.
I was especially pleased with how it worked on our sidewalk. When we moved in there was an awful rubber mat in front of our stairs on the sidewalk. We left it there for probably a year (not sure why) and I'm sure it had been there for a year or two already. When we finally got rid of it, I noticed this nasty stain it left behind.
But it was no match for the power washer! Stain is officially gone!
It even got rid of most of the paint splatters in our driveway and on our sidewalk (still there from whenever the house was last painted) if we held it over them long enough.
Look at the difference it made on our sidewalk! So clean and bright! And our portulaca are quite happy, too.
We had a little fun with it, as you should with all projects, and made some power wash art including my name, a heart, and this lovely piece done by Andrew. For those of you who aren't good at geography, that's Arkansas…where we live. Just fyi.
After testing it in the driveway and getting a better feel for it's strength, we tested it on a particularly dirty piece of our siding. This was the whole reason for borrowing it in the first place. We're getting ready to paint our house, and we thought it'd be easier to power wash the siding first so it needs less cleaning. This is one side of the addition in back (that window is our master bedroom).
And here's after! Much better and ready to primed and painted!
Here's the back of the addition, which is also the biggest continuous section of siding on our house.
You can see that most of the dirt came off, but it also took off some paint on that trim piece. And a paint swatch magically appeared!
Honestly, though, it's kind of nice because it's revealing what areas we will need to scrape before priming. If the paint doesn't chip off under the pressure of the water, it's probably pretty stuck on there.
Our wooden garage door did not fare so well, but it was visibly peeling, so we knew it was going to need lots of help.
We've already done quite a bit of prep work on it, but that's another story for another day.
All in all, we're really pleased with this little power washer, and super grateful to my parents for letting us borrow it so we didn't have to rent one. Unfortunately, it did nothing for the paint that has bled onto our brick from our shutters, but for everything else it did the trick! Our driveway is so much happier (I'm just sure it would say so if it could speak), and it's really going to make our prep work go so much faster! Now I want to power wash our fence…and all of our neighbors' driveways!