This past Friday night during a trip to Lowe's (which lasted 2 hours! No joke!), we made the impulsive decision to replace our doorbell button. We've wanted to do this since we moved in, but just haven't gotten around to doing it. Our previous doorbell was probably the cheapest option available, and therefore, kinda ugly.
I'm not sure why we ignored it for so long, especially considering that it's the one thing that guests are probably most likely to use.
I don't think I usually notice doorbells, but maybe if it's adorable people will notice it for a good reason! So we said goodbye to the cheapo button, and found this one at Lowe's.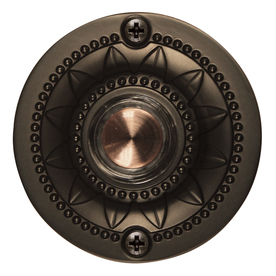 Surprisingly, there were only 2 options that we liked at all, but I loved this one! Unfortunately, it was the most expensive at $16, and we didn't think it would fit in the existing holes, but we just couldn't resist!
Sorry for the weird picture, but Andrew was working on this project after dark. He had to drill out a little hole in the brick for this one because the wires and electric components didn't fit in the case like the previous one.
We also had to change the position of the bottom anchor, so eventually we might try to fill the little hole with matching mortar. It was a lot of work just for a doorbell, especially when we could have bought a rectangular one instead, but we love the result!
Here's the before again.
And the cute, round after!
In the past few days, I've probably rung the doorbell more times than it's been rung since we moved in. I just can't stop myself!
And it has a cute LED light at night so you can find the button.
As for the actual doorbell, we decided to stick with what we have. We briefly contemplated getting a new one, because ours doesn't really chime. There's no echo, so it's more like a clink.
But since spray painting the cover, we don't mind the look and actually decided we liked it better than any of the new options! They were either electric (which looked like a carbon monoxide detector or security system), or they were really tacky!
So there you have it. One more thing checked off our to do list, and one more element that adds a bit of character to our house!